Great Wall Hiking Fans, Welcome to the
Great Wall Adventure Club,
an industry leader in Great Wall hiking & trekking, China tours and China adventure travel!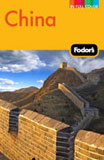 Our service as a China travel agency does not extend just to the Great Wall tours or Great Wall trekking. We have many great English-speaking China vacation tour package deals we offer as well as tons of China adventure programs. Browse our China vacation and adventure pages now. We can also accommodate you to different cities within China. Our China adventure tours are great because you will get a full experience to different parts of China such as Xi'an, Shanghai, Tibet, Yangtze River and so on. We are introduced by the latest Edition of Fodor's China Guidebook.

USAToday Travel uses Great Wall Adventure Club as the major source to offer Great Wall walking tips and recommend Great Wall hiking operators.

When people come to the Great Wall of China, they want to explore the history and see why it was built. A day trip to the tourist sites won't achieve that, but a sleepover on one of the world's most storied ruins certainly will. The Great Wall Adventure Club organizes trips to sleep in a watchtower where soldiers were formerly garrisoned.(June 11, 2012)
Please look at our China Tours and Adventure Travels and book with us to have the best experience in China and English-speaking tour guides. Great Wall Adventure Club is your only source you will need for all your China tours including Great Wall tour packages, city tour packages and adventure tour packages. Learn more about us...
We also speak French, German, Spanish, Italian, Russian and other languages.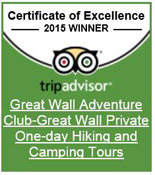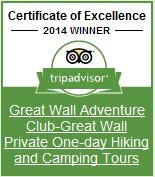 Great Wall Adventure Club
is committed to environmental sustainability and historical education.

JOIN OUR EFFORTS TO
PRESERVE THE GREAT WALL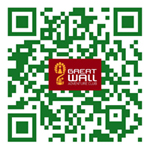 Want to see more of the legendary Great Wall in all its beauty and splendor? Visit our Instagram page for a preview of what could be in store for you!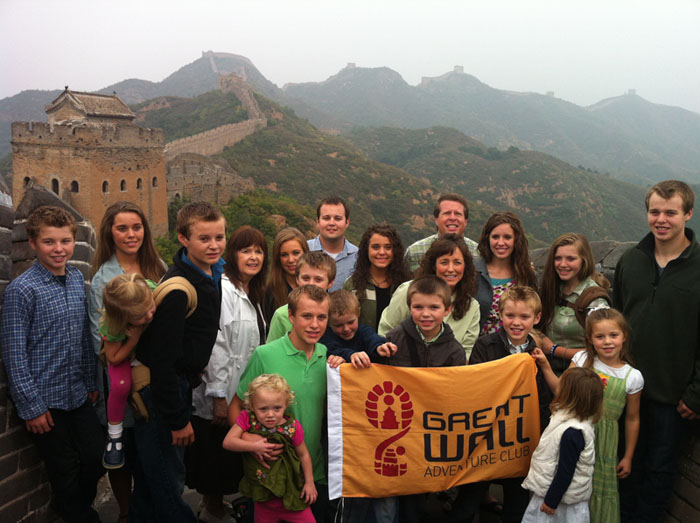 The Duggar Family, star of the hit American reality TV show "(19 Kids and Counting"), enlisted the aid of us in 2013 and had a great time and an experience they'll never forget.
Great Wall & China Adventure Tours with the World-famous
Great Wall Adventure Club
With head offices in both the United States and China, Great Wall Adventure Club (GWAC), is your one-stop place for all your China travel needs. Whether it is hiking on one of our
Great Wall adventures
or Great Wall day tours, taking a city tour to a number of fantastic destinations or one of our more exotic China Adventure Tours, booking hotels, or getting the best deals in flight or train tickets, leave it up to us to give you the best experience possible when visiting the "middle kingdom." Tourists, hikers, and adventurers around the world have all agreed that our service and quality is top notch, just read our
testimonial
section to see for yourself.
While our name of course refers to the hikes and excursions we organize all along the Great Wall, we also specialize in your other China travel needs. We have years of experience sending visitors all over China, and our city tours cover everywhere in China from
Tibet
to
Shanghai
and Hong Kong to
Xian
. With China travel and tour packages, you can maximize the service we provide you, such as visiting the "golden triangle" of
Beijing
, Xi'an and Shanghai. If a city tour doesn't have quite the right amount of excitement or thrills you are looking for, then join one of our China Adventure Tours, which cover the more remote and wild places of China, with horse riding in
Inner Mongolia
and hiking and exploring Tibet and the Silk Road examples of such tours we offer. If what we have doesn't quite fit what you need, than you can also customize your very own tour, fitting your China travel needs.

The Great Wall, Our Way
BY JEANNIE RALSTON, July 31, 2013
A two-day hike along a remote stretch of China? Great Wall affords endless views without the distraction of crowds.

When New York Times looks to investigate the rise in popularity of Great Wall hiking, who do you think they turn to? Why Great Wall Adventure Club of course! Read about how a New York Times travel correspondent went on the trip of a lifetime with Great Wall Adventure Club!



The Great Wall Adventure Club

'

s

Shanghai World Expo Packages

we

r

e

recommended by

The Wall Street Journal

on t

he Shanghai World Expo ("Shanghai Aims to Attract the World" ).

(Mar. 18, 2008) . CEO Terrence Ou was also interviewed by Wall Street Journal about the sudden popularity of Saudi Arabian Pavilion of World Expo on Jun. 11, 2010.

Everyone, from international travelers to such prestigious companies such as The New York Times, the Wall Street Journal and NBC (which documented one of our Great Wall hikes during the Olympics) agrees that Great Wall Adventure Club is your place for all your China travel and adventure desires. So instead of banging your head against the wall, get on the wall with Great Wall Adventure Club.



LET'S GET SOCIAL









Great Wall Hiking Tours

Built to ward off enemies in ancient times, today the Great Wall brings together people from all corners of the world. Hiking along the Great Wall

China Adventure Tours

China adventure tours cover the most remote and wild places in China. The adventure tours we have been providing for years are 4WD adventure over Tibet and

China City Tours

Beside Beijing tours, we also also offers China city tours, such as Shanghai Tours, Xian Tours, Guilin tours, Hangzhou tours, and Tibet Tours. Private and bus tours are both available.

China Package Tours

China package tours invite you to experience with us the real Chinese culture behind the screen: the Tea Culture, the Cuisine Culture, Kungfu Culture, and much more.

China Hotel Reservation

We are able to obtain the best rates from hotels across China and provide you professional consultation on choosing a good hotel in China.

China Domestic Flights

We book you hundreds of Chinese domestic flights with major airlines of China at competitive rates with e-tickets for easy travel saving.
WHO USED US
PARTNERSHIP HOTELS