BEIJING DAILY LOCA

L

BUS TOURS TO
Forbidden City, Temple of Heaven,
and Summer Palace
MORE BEIJING SIGHTSEEING TOURS

A1: Great Wall Badaling & Ming Tombs

A2: Great Wall Mutianyu and

Sacred Way

A3: Great Wall
Mutianyu No-shopping Tour

A4: Great Wall Jinshaling Group Hike

A5: Great Wall Mutianyu and Juyongguan

E1: Great Wall Badaling, Tiananmen Square, Forbidden City

B1: Forbidden City, Temple of Heaven, Summer Palace

D1: Acrobatic Show (night)

D2: Beijing Opera (night)

D3: Kungfu Show (night)
SPRING
SALE
Was RMB518 or USD79.
99
Save an
EXTRA
50
% OFF
ALREADY REDUCED PRICE
Now only


CNY329 or USD48.
99
with a shopping stop

(TUE, THU, SAT)

US$45.99
(Pay today via Paypal)



OR
CNY449 or US$71.
99
with NO shopping stop

(TUE, THU, SAT)


US$68.99

(Pay today via Paypal)

Quick Sign-up
or
Ask Questions
Your Name:
Citizenship on your passport:
Number of Tourists:
Email :
Your China cell # or hotel line:
Date of Tour:
Your Hotel in Beijing (Rm. # if you have):
Tour to book:
Payment Option:
MOONIGHT MADNESS SALE
Add an evening show (acrobatic show or Kungfu show) for just RMB199 (after RMB30 off) including free hotel transfers. To add, please choose from the following:
Remarks or Questions:
For assistance, you can also send email to tour@greatwalladventure.com
Or you can call at 13811545162 from Beijing or China.



Check other Beijing touring programs
TOUR B1: Beijing Daily Bus Day Tour
- Glory of Imperial Beijing

(With Lunch)



Local Tour to Forbidden City, Temple of Heaven & Summer Palace


By the mid-1700s, the Imperial Chinese Empire was the most advanced nation on Earth. Its culture, cuisine, and architecture were unmatched anywhere in the world. On this tour, you will see how the Chinese gained that glowing reputation. This tour highlights the pinnacle of Chinese civilization, and the sights you will see today are renowned for their magnificence. Today you will see the absolute best Beijing has to offer. You will be awed by the colossal setting of the

Forbidden City

(the home of the Chinese emperor for over 400 years), the holiness of the

Temple of Heaven

(where the emperor performed his sacred rites for heaven worship), and the grace and beauty of the

Summer Palace

(the largest preserved classical Chinese garden). This tour also involves an imperial-style lunch
at a Chinese restaurant.


Highlights:
<![if !supportLists]> · <![endif]>Experience Beijing's wondrous and glorious past with a tour that includes visits to the Forbidden City, the Summer Palace and the Temple of Heaven.
<![if !supportLists]> · <![endif]>Free hotel pick-up and drop-off is included!
<![if !supportLists]> · <![endif]>Free lunch is included!

Daily Departure
: Sign up and you'll be on the way!



Free
hotel pick-up & drop-off!
Free lunch!


* We usually pick up from hotels in the central and eastern districts of Beijing. If you stay in the western districts such as Haidian, or in the airport area of Shunyi, you may be asked to take subway or taxi in order to join us in downtown Beijing. We can pick you up separately with additional 100 yuan for a private transfer. This is to make sure our bus can leave Beijing before the stifling morning rush hours. Thank you for your cooperation!


* Please understand that there is absolutely NO obligation to shop or buy anything at these stops. At no point during these shopping stops should you ever feel pressured into buying something, and if you do, please tell us immediately. You can simply tour the stores, hang out, and not spend a dime. However, if you do choose to buy something, please be cautious and use discretion when making your purchase. Please look carefully at your item, because once you buy it can be very difficult to return your purchase or get your money back.

As you are well aware, China is not like a Western country. Due to cultural practices, merchants in China are very hesitant to give you a refund or to provide superior customer service. Also, as a friendly tip, the products you see in souvenir shops on these stops can often be found for lower prices elsewhere. If you have the time, please consider shopping at other stores in the city, as there's a good chance you can find the same or similar item for a bargain.
TOUR ITINERARY

Forbidden City, Temple of Heaven, and Summer Palace
1- Day Bus or Coach Tour


Tour code:


GWA-BJBUS-B1
TOUR DETAILS:
You will be picked up from your Beijing hotel between 7:30am-8:00am by your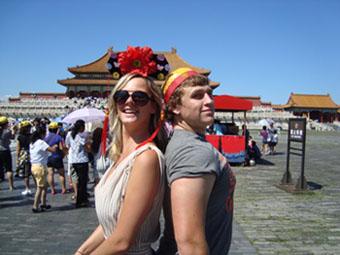 English-speaking guide and driver, and from there we will proceed to drive to the Forbidden City. The Forbidden City is the largest surviving palace complex in the world, and served the former home of the emperors of the Ming and Qing Dynasty. The Forbidden City is one of the greatest attractions in the world. Built by the third Ming emperor between 1406-1422, the Forbidden City served as the official residence to the Emperor of China until the last emperor, Puyi, was forced to evacuate in 1924. The Forbidden City is divided into two parts. The southern section, or the Outer Court was where the emperor exercised his supreme power over the nation. The northern section, or the Inner Court, was where he lived with his royal family. Consisting of 980 buildings and with 8,707 bays of rooms, the Forbidden City is the best example of classical Chinese architecture in the world, and is a wonder to behold.
After about two hours of exploring the Forbidden City we'll make the short drive to the Honngqiao Pearl Market. The Hongqiao Pearl Market is one of the best-known pearl markets in the world, and you are sure to find a bargain here. More than 1,000,000 visitors come to Hongqiao Market to buy pearls yearly. Even the former British Prime Minister Margaret Thatcher and ex-U.S. Secretary of State Hillary Clinton has been to Hongqiao Market to try to pick up the latest beautiful pearls. Apart from pearls, the market also offers seafood, digital products and silk. Since it is a market, bargaining is the norm, so if you need some assistance, our guide will be sure to give you a hand, and in return you'll get some great swag!
Following a Chinese lunch we'll then walk across the street to the Temple of Heaven Park. The complex was visited by the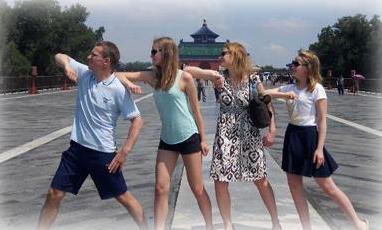 Emperors of the Ming and Qing dynasties for annual ceremonies of prayer to Heaven for good harvest. The Temple of Heaven Park is best known for the Hall of Prayer for Good Harvests, an iconic building famed for its magnificent triple-gabled circular roof. You will also have an opportunity to walk the same imperial walkway that the same emperors walked hundreds of years ago in their holy rites. You will also see Beijing's senior citizens using the park grounds for everything from tai chi and ballroom dancing to bullwhip practice!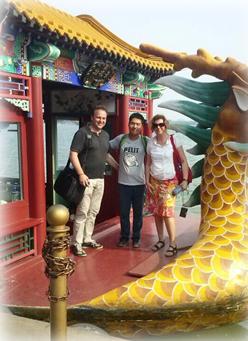 Next we'll drive to the northwest of the city in order to visit the Summer Palace. The Summer Palace served as the royal family's retreat from the Forbidden City. The Summer Palace is ranked amongst the most noted and classical gardens of the world. In 1998, UNESCO listed it as one of the World Heritage Sites. Like most of the gardens of Beijing, it could not elude the rampages of the Anglo-French allied force of 1860 and was destroyed by fire. In 1888, Empress Dowager Cixi embezzled navy funds to reconstruct it for her own benefit, changing its name to Summer Palace (Yiheyuan). She spent most of her later years there, dealing with state affairs and entertaining. Highlights not to be missed include climbing up Longevity Hill, viewing the Empress Dowager Cixi's extravagant Marble Boat, and talking a walk down Suzhou jie, a canal meant to resemble the beautiful river city of Suzhou.
On our way back to your hotel we'll stop at Dr. Tea, a local shop where you'll get to learn all about China's tea culture, which includes an extravagant tea ceremony. You'll also get the opportunity to sample quite a few different teas! Following our visit to Dr. Tea you will be dropped off at your hotel, arriving no later than 6:00pm.

Check other Beijing touring programs.