Great Wall One-day Hike from Simatai West (Second Valley)
to Jinshanling (followed by gourmet lunch)
TOUR 1AB:

Fascinating Variety in the Transition from Wild Wall to the Rebuilt
*
Popularity Ranking:




*Ranked by the quantity of signups of all 1-day hiking routes.
* The Jinshanling section is currently OPEN exclusively to Great Wall Adventure Club.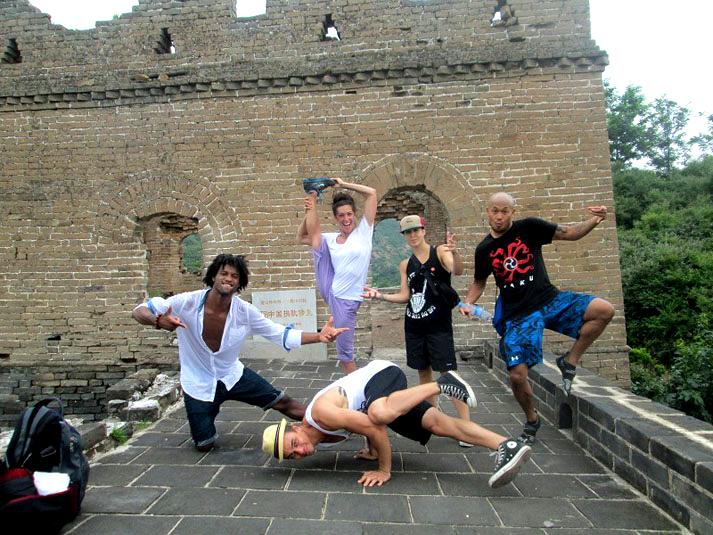 The Michael Jackson Immortal World Tour by the world renowned Cirque du Soleil elected to go on their very own Great Wall hiking in August, 2013

Highlights
1. If you are looking for breathtaking views with a relatively peaceful walk, then the Jinshanling-West Simatai (Second Valley) Great Wall hike is perfect for you.
2. On this hike you will get the best of both Great Wall worlds, both majestically restored wall, as well as wild and dramatic unrestored "Wild Wall," making the hike much more interesting than others.
3. This part of the Great Wall is the venue for the annual Great Wall international marathons.
4. Pick-up and drop-off from your Beijing hotel is included!
5.

Lunch after the hike is provided with with country-style Chinese stir fry and rice (also vegan-friendly).

Please be advised that it is recommended that you are in good physical condition to complete this trek. Here is how one of our hikers described it:

"The wall here is virtually unrestored, closed in some areas because it is too treacherous. But first you have to get onto the wall. This involved an arduous hike. Sets of stairs after stairs virtually straight up because, after all, the wall is along the top of the mountain ridge. This was probably the hardest part of the hike but the promise of what lay ahead beckoned. We took about three hours in total to walk the section of the wall. This was done at a leisurely pace with lots of stops for photos. The 'hardest' part of the walk is getting to the wall itself as there were a lot of stairs. For the most part the walk on the wall was very easy however there are a few sets of very, very steep stairs which you need to negotiate with care."

However, according to that same hiker, it was all worth it:

"It was an amazing, humbling day that will stay with me for a very long time. It started as a tick off my bucket list, a birthday present to myself, but became much more. A journey into ancient history, a tribute to what man without today's technology can build, and how that can endure over the centuries. A physical and mental challenge. A great day!"

While other companies bus you from section to section, Great Wall Adventure Club lets you personally experience the majesty of the Great Wall by allowing you to physically pass from one section to the next. In contrast to driving across, this lets you see the differences between the restored, maintained, section on one side and the radically different "wild wall" on the other.

Our Great Wall hiking is a private service. What this means is that you can hike on the Great Wall at any time at your convenience. If you would much

rather be part of a group for the experience for economic and social reasons

, we'll check to see if there are more signups for the same date as your own. We'll keep you updated whenever there are more. If you would like to keep your tour a private one, please let us know and we'll assign you a guide and driver.

Detailed Hiking Itinerary: (6 kms/4 miles on the mountain, 3 hours of hiking)
Your guide will meet you at our hotel around 8:00 am, and by private minivan we will head to the Great Wall at western Simatai to start our hike.

While the eastern portion of Simatai is closed due to government maintenance and repairs, the western section of the Simatai Great Wall is still open to hikers. The Simatai Great Wall is separated into eastern and western halves by a valley, with a rainbow-like chain bridge over the valley. The hills in the west are sloping gently, with 20 watchtowers remaining in good shape. The Simatai section of the Great Wall is one of the few sections to retain the original appearance of the Great Wall. Incorporating a variety of characteristics of other sections of the Great Wall, Simatai also displays some unique features of its own. It is often described with the following five words: perilous, dense, diverse, artful, and peculiar.

Here's how one of our trekkers described first seeing Simatai:

"The wall snaking off in either direction as far as the eye could see, the trail undulating up and down along the crest of the mountain ridge. It stops you in your tracks. It takes your breath away. Steep, narrow trails up to watchtowers where guards in centuries past would have watched for invaders, followed by very steep and narrow steps down the other side. Some sections were crumbly and we had to pick our way carefully down, others where it was less steep were like steeply sloping pathways of ancient brick."

After about 90 minutes of hiking we will eventually pass over into the Jinshanling Great Wall. The Great Wall at Jinshanling is one of the best preserved parts of the Great Wall with many original features. It got its name because it was built on the Greater and Lesser Jinshan ('Gold Mountain') Ranges. A tablet with the Chinese inscription for Jinshanling Great Wall was set into this section. The Jinshanling Great Wall has not been repaired since 1570. It is a remote and relatively isolated section of the Great Wall. As there are relatively few tourists at Jinshanling Great Wall, it is a good place to explore on foot. The Jinshanling Great Wall was initially built from 1368 to 1389 in the Ming Dynasty (1368-1644), and in 1567 and 1570 rebuilding of the Wall was mainly directed by General Qi Jiguang (1528-1588). Poems and tablet writings can be found on the Jinshanling Great Wall left from the time when Qi Jiguang directed the rebuilding of this section of the Great Wall.

According to one hiker this is what you should expect to find at Jinshanling:

"Meticulous detail is evident in the construction of the wall. Everywhere consideration has been given to deterring and defeating invading armies. The uneven steps meant to slow down advancing armies should they make it onto the wall. The narrowing curves and paths that would bottleneck and slow them down, limiting the invaders to moving single file, making them vulnerable to the defending army. Far down the mountain each brick was crafted by thousands of workers and carried up the mountain on the backs of mules. The architecture and engineering a feat that would challenge us even today."

There are more than 100 watch towers along the Jinshanling Great Wall. 'Watching Beijing Tower' is on the highest point, from which you can see Beijing. The Jinshanling Great Wall is second only to the Badaling Great Wall in its completeness. After about 1.5-2 hours of hiking, we will cross over into west Simatai. When we finally reach the park at Jinshanling, we'll stop by a local farmer's restaurant for a late lunch.

We'll then drive back to Beijing, and you will be dropped off back at your hotel in the early evening.

It can take another 2.5 hours due to the unpredictable traffic situation in Beijing.





Note: Stuff you should bring with you:

* Tough trainer or sneakers (boots preferred), sunscreen and sunglasses
* Backpack, and snacks or energy/protein supplements you want to have before lunch*
* Extra cash for personal spending
* Don't forget your camera!