Guilin Travel & Tour Packages - Yangshuo


Li River cruise makes the small town known to foreigners. Located some 90 kilometers south of Guilin City, this town is the downstream end of the cruise but not the least. The enchanting fairyland of Yangshuo is renowned as the best in Guilin.

The town is very small that everyone will know you after one month. The West Street in the town lined with western cafes,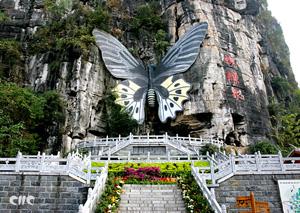 restaurants and hotels is the best choice for people who want to explore Chinese life.

Yangshuo is a great place for hikes and cycling excursions. There's no doubt that taking a close-up exploration to the country villages, you will have a taste of the rural life. One thing surprised us is the one-hour bamboo raft trip along Yulonghe River. We didn't expect the scenery to be such a paradise.

Elephant Hill:

Elephant Trunk Hill is located on the western bank of Li River. The shape of the hill is just like a huge elephant drinking water from the river with its trunk, so it is called Elephant Trunk Hill.

Shui Yue Cave (Water Moon Cave) is between the trunk and the legs, which is a semi-round cave penetrated by water. The inverted reflection of the cave in water plus the part above forms a full moon. This phenomenon is unique and many laudatory inscriptions were found on the wall inside the cave. Visitors can boat through the cave to the river.

Another cave regarded as the eyes of the elephant lies in the hillside. It provides tourists an ideal position to enjoy the panoramic view of Guilin.

On the top of the hill is a two-storey pagoda built in the Ming Dynasty (1368-1644) surrounded by green trees. The north seat of the second floor is inlaid with an image of Bodhisattva Puxian. The pagoda looks like a precious vase on the back of an elephant seen from distance and many beautiful legends about the pagoda with good wishes are said among people.

As the symbol of Guilin, Elephant Trunk Hill is the main scenic spot of the Elephant Trunk Hill Park, which also includes Yunfeng Monastery (a building with ancient style), Aiqing Dao (Love Island) and so on.
Check our Guilin-Yangshuo tour packages and we'll assist you with the tour to Yangshuo.