The World-famous
Great Wall Hiking, Trekking and Camping Programs
See the Wall all in natural with Great Wall Adventure Club, the world's most famous Great Wall hiking organization. Try our 1-day hike, 2-day overnight camping, 3 to 6-day expedition, or even 7 to 12-day trek to see the most unrestored sections of the Great Wall, which we believe the best parts of the Great Wall to visit. Enjoy a private hike of the Wild Wall and other privileges selected exclusively for you during the best time to visit the Wild Wall.

BY JEANNIE RALSTON, JULY 31, 2013
A two-day hike along a remote stretch of China? Great Wall affords endless views without the distraction of crowds.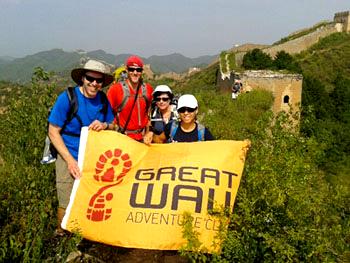 The Great Wall of China, one of the world's modern wonders, and one of the greatest technological achievements in all of mankind, has long held the imagination of writers, scientists, soldiers, and now of course, travelers and adventurers. Within its countless bricks and watchtowers lies the boundless spirit of Chinese civilization. When you walk on its sacred ground you will feel this spirit all around you. The fun and excitement you get from exploring this marvel will stay with you for the rest of your life. We believe that everyone should experience this feeling at least once in their lives, and we at the Great Wall Adventure Club want to help you acquire this feeling.

Introduced and recommended by Fodor's China Guidebook (right), The Great Wall Adventure Club has received high marks and praise from all comers, from international tourists and hikers to the Wall Street Journal, USA Today, New York Times, CNN and NBC, which documented one of our hikes. If you are looking for some excitement and adventure, along with some fun, then don't just be another brick in the wall, come along and see what all the fuss is about!

The Great Wall Adventure Club is committed to environmental sustainability and historical education.
GREAT WALL HIKING TRIPS

All of our one-day hiking takes about 3-4 hours, and we normally depart for the wall at 8 am and come back by 5 pm. It is a whole day excursion, and the hike allows you to experience the best of Great Wall. You will get to hike into the unrestored "Wild Wall", which is much more authentic than the Disney-Land version Great Wall at Badaling. We are making are hikes more diverse than ever, and we are excited to present 4 more popular hikes: Jiankou and Lianhuachi (Qian Jiankou) to features the hauntingly beautiful unrestored Jiankou and the famed restored Mutianyu, Huangyaguan to the East Wing Tombs includes a section designed as a composite of the entire Great Wall along with the culture of the East Qing Tombs, Huanghuacheng to Xishuiyu features both beautiful blooming wild flowers and an underwater Great Wall, and a trip from a local village to Mutianyu, which features "Wild Wall", the tastefully restored section of Mutianyu, and a thrilling toboggan ride down from the wall!

Learn more...
Program 2: Two-day overnight hike and camping

For people who have already done the one-day Great Wall hike, or are looking for a little more time on the Great Wall, then this two-day camping tour is the perfect fit for you. This 2-day hike is also for those who are keen on sleeping overnight in a watchtower on the Great Wall. In the summer, we will camp inside one of the watchtowers on our hike, and in the colder months we will room with a local host family. We are also proud to introduce two more two-day Great Wall Hikes, which are designed to showcase the lesser known portions of the Great Wall. The Gubekou-Jinshanling and Hunanghuacheng to Jiankou-Mutinayu will deliver to you breathtaking views and dramatic tower peaks, and is extremely photogenic. The Panjiakou Reservoir to Xifengkou tour is for those who want some relaxation from big city life, and includes mountains, caves, and even underwater Great Wall.

Learn more...
Program 3: Three-day hiking & camping

This tour combines the majesty of the Great Wall with the wonders of the imperial Qing Dynasty. This tour will start in the Qing resort town of Chengde, where we will visit the illustrious Mountain Resort and the Tibetan-style Small Potala Palace. On day 2 we will head to Panjiakou reservoir for a delicious lakeside lunch. Afterward we will have the treat of exploring the rare underwater Great Wall at Xifengkou. The next day we will trek on Qianhe Mountain, discovering its beautiful islands and mysterious caves.

Learn more.
Program 4: Four to six-day hiking, camping and trekking tour

Join us for a Great Wall odyssey stretching from the Yellow Sea all the way to Beijing! Starting with the classis Jinshanling-Simatai hike along with Gubeikou, this tour will then continue to Xiangshuihu, a section of wall that combines many watchtowers with unrestored "Wild Wall." We will then make our way to the totally unrestored Jiankou, which is maybe the most stunning and photographable part of any section of the Great Wall. We'll then connect over to Mutianyu, a lovely restored section of wall without the hordes of tourists that plague Badaling. The last day of the hike includes Huanghuacheng, which, like Jiankou, is fast becoming popular with hikers and tourists who are looking for something a little different in their Great Wall experience. Our hike we'll end at Xishuiyu, a part of the wall distinctive in that part of it is underwater!

Learn more...
Program 5: Seven-day hiking, camping and trekking tour

This weeklong hike will push even the experienced Great Wall hiker to the limit. Starting from Old Dragon's Head in Hebei Province, the eastern starting-point of the "Ten thousand li Great Wall", we will trek to Huangyaguan Pass in Tianjin, which is designed as a composite of the entire Great Wall of China, and is also the site of a marathon. From there we will head to Gubeikou, and continue on to Simatai through Jinshanling. This tour will give you everything, from wild unrestored wall to brilliant watchtowers and sweeping views of the gorgeous Chinese countryside. While a tiring seven days, the memories will last a lifetime.

Learn more...
Program 6: Nine-day hiking, camping and trekking tour

This full-length tour is designed for those who want a greater understanding of the Great Wall while also enjoying the sights of Beijing. This hike is for serious trekkers, as we will be through all sorts of rugged terrain, as well as some classically restored sections. This hike also includes the beautiful natural scenery of Northern China, as we will also make our way through local villages, waterfalls, and mountains. At the end of your tour, you will be rewarded for your perseverance with a delectable Peking Duck dinner once back in Beijing. You also have the option of touring the greatest sights of Beijing once back from the hike. This hike also includes free pickup and drop off at the airport and your hotel.

Learn more..
Program 7: Twelve-day hiking, camping and trekking tour

A Great Wall hike that starts at its easternmost point and finishes at Beijing, this tour is the deluxe treatment. This program has all the Great Wall you could ever want, along with side trips to the East Qing Tombs, local villages, and museums. This tour combines every possible aspect of the Great Wall, from ruined towers to imposing fortresses. Once back in Beijing you will be presented with a juicy Peking Duck dinner in honor of all the hard work you put in. In Beijing you also have the option of taking our excellent city tours, and you may choose to visit any attraction you so desire. This tour also includes pick up and drop off at the airport.


Learn more..
Program 8: Beijing Daily Bus Tours to Great Wall & Major City Attractions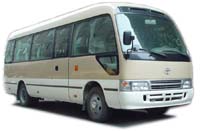 This program is designed for those who wish for a shorter experience at the most famous sections of the Great Wall. These sections, strategically important when built, are close to Beijing so they can be combined with another major attraction, such as the Ming Tombs or the Olympic Green. Senior citizens and youngsters are encouraged to travel to Juyongguan, as it is less challenging to walk.
On a tight schedule during your visit to Beijing? The Great Wall Adventure Club also offers daily bus tours to the best and most fascinating sights of Beijing. Our exceptional design of tour routes has been built with busy international tourists in mind. Our tours are at the highest quality and at extremely competitive rates. Our bus tours of small groups have taken over 7,000 international travelers to the Great Wall, Temple of Heaven, Lhama Temple, Summer Palace, Ming Tombs, Hutong tours, the Olympic Green, and of course, the Forbidden City.

Learn more...
Why You Need to See the Original and Wild Great Wall
It is unfortunate that to many people and visitors their only exposure to the Great Wall is at Badaling. While it does have some excellent sights, this section is overcrowded, over-commercialized, and often overwhelming. This is not a true Great Wall experience. We want to show you the true Great Wall, with its mighty peaks and valleys, and its beautiful and mysterious ruins. With the Great Wall Adventure Club you can explore the real Great wall, one that is often unknown to foreign visitors. With us, we can provide you with memorable and lasting trips, hikes, treks and odyssey all across the Great Wall of China, and not just at its sections near Beijing.

If you there is something with your hiking itinerary that you'd want to change, then you can custom design your own journey, giving you the experience you want. Want to spend the night and camp in one of the wall's watchtowers and watch the splendid sunrise from the Great Wall? We can do that. Want to go on a week's journey from the wall's easternmost point all the way back to Beijing? We can do that as well. Even if you want to go for just a day's stroll to one of the sections near Beijing, we can make it an exciting and fulfilling trip. Whatever you want to get out of your time on the Great Wall we can provide it to you. And on our trips and hikes, we promise no "shopping tours" to any "jade factories" or "silk museums".
New: The Great Wall Repair and Tour Program
-- Your unique opportunity to help repair the remnant portion of Huanghuacheng Great Wall
Smart tour with smart agent. TM